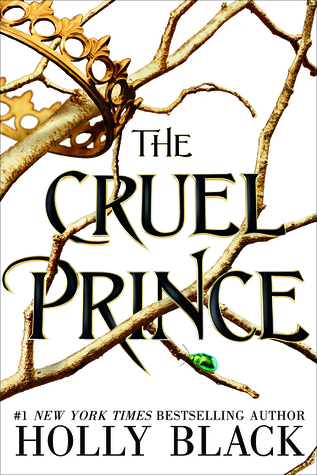 I was very hesitant going into The Cruel Prince, both because of the hype and because I'd heard some problematic things about it. This certainly wasn't a perfect book and there are some things I'm definitely side eyeing, however I'd be lying if I said I didn't love this. 
The Cruel Prince is the first Holly Black book I've ever read and I'm lowkey annoyed at myself for not having read more of her work! The Cruel Prince follows Jude, our main protagonist. When she was young, she and her two sisters witnessed the brutal murder of their parents. The man who murdered them whisked the sisters away to Faerie and now, 10 years later, Jude is trying to survive in this world despite her mortality. As she becomes more embroiled in the politics of Faerie, Jude must take some risks to ensure she and her sisters remain alive.
The Cruel Prince turned out to be everything I ever could have wanted and more. Political intrigue? Check. Interesting family dynamics? Check. Morally grey characters? Check. Bloodthisty fae? A gripping plot that keeps you flipping the pages? A very slowburn, very lowkey hate-to-love romance? Check, check, check. I honestly believe that this book has something that everybody will enjoy.
I'm going to start by saying that Holly Black's writing is gorgeous. It has a fairytale-equse quality that draws you in and makes you feel as if you're right there with the characters. I literally inhaled this– the writing is so addictive and lyrical. I think the writing style perfectly fit the story, the atmosphere and the characters, and now I really want to read everything Holly Black has ever written. I have to admit though, while the main characters were easy to keep track of, I found myself a little confused at times about the King's children and even the rulers of some of the other courts. Apart from that, the writing was perfect in my opinion!
Aside from the writing, The Cruel Prince's strongest quality is definitely the characters and their relationships. I really loved Jude. She's a really strong, resilient, determined character. She's really morally grey and I fucking loved that. Growing up mortal in Faerie, she hasn't always had the best life. She was constantly bullied by other Fae children her age, and wanting power over them is one of her main motivations. Her strive for this power and her need to fight back causes a few issues between herself and her twin sister, Taryn, whose ultimate goal is really just to fall in love and settle down.
I love reading about interesting family dynamics, and The Cruel Prince is full of them. I was really interested to see what Black did with Jude/Taryn's relationship as twins, but I'm lowkey disappointed. I appreciated that they were foils of each other, however I thought that Taryn's main purpose was to create boy drama & I wasn't here for it. Sisters are so often pitted against each other in fantasy novels & I'd rather read about sisters banding together, personally.
In saying that, though, I appreciated Jude's relationship with Vivi. We actually don't really see much of Vivi in this book, but I still liked their relationship. Vivi is the eldest of the sisters. She is fae, unlike Jude and Taryn, and because she was just that little it older when their parents were killed and therefore remembered more about their parents and the mortal world than Jude & Taryn did. Although Vivi cannot understand how Jude & Taryn can possibly like living in Faerie, she is still supportive of her sisters and is always helping them when it's needed. I really loved that.
I think the most interesting dynamic in The Cruel Prince was between Jude and Madoc. Madoc is the man who brutally murdered Jude's parents, and I thought Jude's inner struggle between that fact and the fact that she's grown to love Madoc was really well-done. She never forgets that Madoc took her real parents from her, but also sees that Madoc raised her and can't help but love him in some way, even if she doesn't want to. This relationship was so well-written, and it was fascinating to see the difference between her relationship to Madoc and Vivi's relationship to Madoc!
The last relationship I want to talk about is Jude & Cardan. Now, this is the relationship that I think people will either love or hate. Cardan is an asshole. He's a bully and he's an entitled jerk and the way he treats Jude is far from okay. His actions are also "justified" by the fact that his older brother physically abuses him and that he secretly wants Jude and is disgusted in himself for it. Now, in any other book, I think I would hate the fact that it looks like Jude and Cardan are going to become endgame, but I don't hate it. I'm actually excited to see where their relationship goes in the next books and I honestly highkey ship them. Never in my life did I think I would ship a paring that started off the way that Jude/Cardan did, but here we are.
Jude and Cardan's budding realtionship is the epitome of the hate-to-love trope, and I am 110% here for it. There is so much tension between the two and honestly I hope to god we get some good tension breaking moments in future books! I think the thing I liked most about their relationship is it never pretends to be healthy. Sorry for the spoiler here lmao but Jude is literally holding a knife against Cardan's throat the first time they kiss????? We know this isn't a healthy relationship, we know that the way Cardan treated Jude wasn't right and Jude doesn't forget that. After finding out that his brother beats Cardan, we can see Jude's thoughts about him change slightly, but she never forgives or justifies the way he treated her. Their relationship is the definition of hate-to-love and I honestly can't wait to see them develop together in future books. I think this relationship has a lot of potential, and I think Holly Black can do this trope & relationship justice. 
I only have a few small complaints about this book:
the world-building was a little confusing & could have used more depth
there was very little diversity, apart from Vivi being bisexual and having a human girlfriend
the pacing was kind of off at times
the plot was kind of predictable at times
I think these are some things that can be expanded and improved upon further in the series, and after that ending I am so looking forward to picking up The Wicked King. 
Overall, The Cruel Prince is a book that snuck up on me and has worked its way to become one of my favourite books of 2018. A dark, atmospheric, fairytale-eque fantasy with political intrigue, interesting family dynamics, a perfect slowburn hate-to-love romance and an engaging plot, The Cruel Prince was everything I could have asked for and more.
---
REPRESENTATION: bisexual side character
TRIGGER/CONTENT WARNINGS: physical and emotional abuse, murder, bullying, graphic violence, alcoholism, suicide.