Hi friends! How is it December already?! I feel like this year has just gone so quickly. Next time I blink I swear it'll be Christmas. My November tbr failed miserably (out of the 7 books I chose, I only ended up reading 3 of them! However I did read 14 all together last month) and so instead of setting an official tbr this month, I'm just going to lay out some of my reading plans!
I adopted a goal a couple months ago to read at least one non-fiction, one adult fiction, one YA fiction and one romance book per month. So far I've stuck to that goal pretty well, so I'm going to continue that goal in December and into the new year. The only book I officially want to read in December is Growing Up Aboriginal in Australia which is the last book in the top 5 of my End of the Year Reading List.
I'm also planning to participate in a few readathons in December. I don't have official tbrs for each of these, but I do have 10 books written down to choose from for each! I'll be posting a wrap-up at the end of each readathon to see if I deviated from my chosen 10 or if I managed to read a few of them!
---
Queer Lit Readathon
The Queer Lit Readathon is a readathon running from December 2nd-8th. It is hosted by Kathy, Rogan Shannon, and Adriana. As per the name, the point of the readathon is to read queer books! Although I won't be participating in the challenges, I've included them here so you can do them if you wish.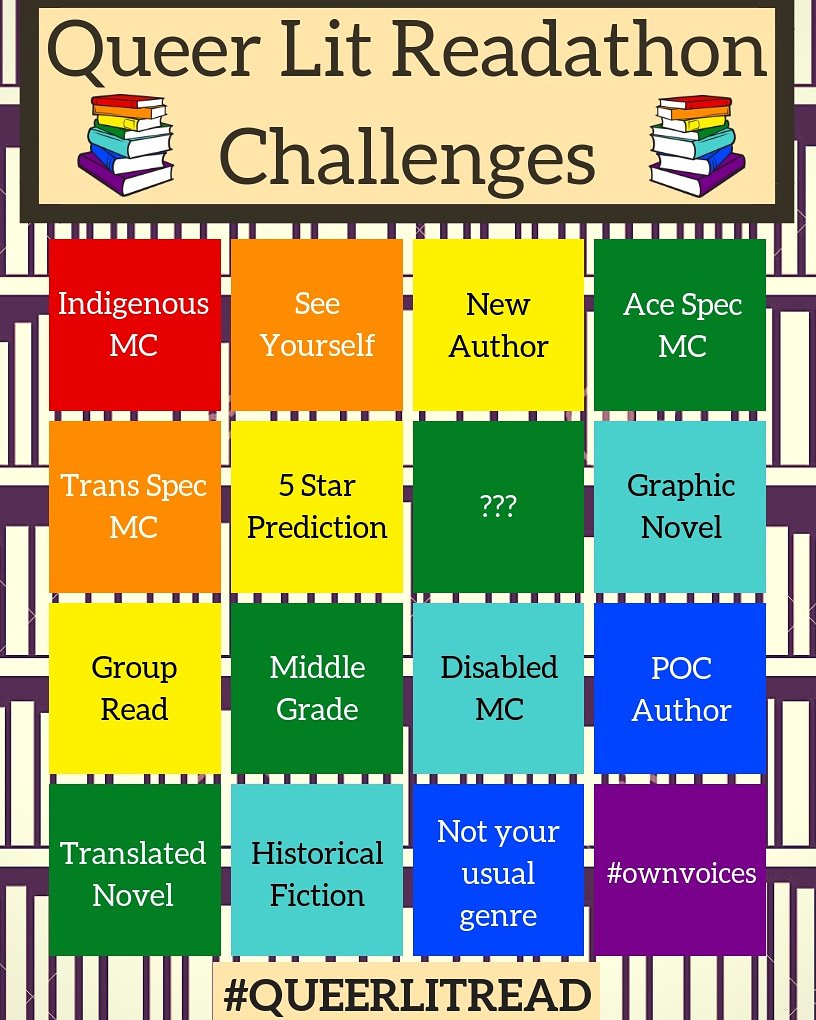 Books I'll be Choosing From
» Peter Darling by Austin Chant
» Ivy Aberdeen's Letter to the World by Ashley Herring Blake
» A Matter of Disagreement by E.E. Ottoman
» The Song of Achilles by Madeline Miller
» When The Moon Was Ours by Anna-Marie McLemore
» Fortitude Smashed by Taylor Brooke
» Unmasked by the Marquess by Cat Sebastian
» Hottie Scotty and Mr. Porter by R. Cooper
» Odd One Out by Nic Stone
» Reign of the Fallen by Sarah Glenn Marsh
My goal was to try to read at least 3 of these, but the way that I'm going so far, I'll probably only end up finishing 2. If you've read these, let me know which one(s) you think I should prioritise!
SmutAThon
The smut-a-thon is a romance focused readathon hosted by Riley @ Riley Marie and Lainey @ Ginger Reads Lainey. Smut-A-Thon will be going from December 10th-16th and this is probably the readathon I'm most excited for! Similarly to the queer lit readathon, I won't be taking my tbr based off the challenges, though I'll leave the tropes/challenges here for you if you wish to participate. This rounds tropes/challenges are:
enemies to lovers
friends with benefits
fake relationship
slow burn
forbidden romance
different worlds
one night stand
Books I'll be Choosing From 
» Only for a Night by Naima Simone
» Angel's Blood by Nalini Singh
» A Duke by Default by Alyssa Cole
» Hold Me Down by Sara Taylor Woods
» Merry Inkmas by Talia Hibbert
» Beyond Control by Kit Rocha
» Wrapped by Rebekah Weatherspoon
» Play With Me by Alisha Rai
» Luck of the Draw by Kate Clayborn
» Killing Sarai by J.A. Redmerski
My dad will be visiting me for most of this readathon and so I'm not entirely sure how much I'll get a chance to read. I generally read romance books quicker than I read any other genre, so I'm hoping to read 3 but I'll be happy for whatever!
---
I'm planning to also participate in the short-a-thon running in the last 10 days of the year, however I'm going to post an official tbr for those after the course of these two readathons!
So, there we have all my December reading goals. Let me know what books you're planning to read for the last month of 2018! I hope you all have a lovely month & happy reading!
Thanks so much for reading
Taryn xxx