I received an advance copy from the publisher in exchange for an honest review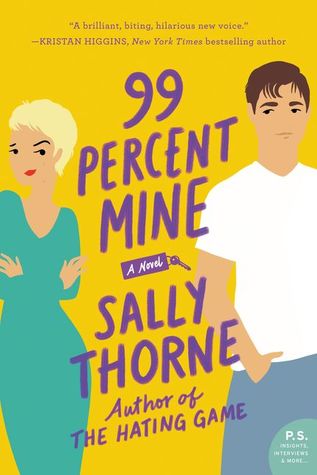 99% Mine is a book I was sceptically anticipating. I read Sally Thorne's debut novel, The Hating Game, earlier in the year and thought it was okay. There were a few issues with some of the language used and some lowkey misogynistic parts that I was hoping would be improved upon in 99% Mine, but unfortunately I think this book is actually worse. 
Darcy Barrett met her dream man when she was 8 years old. Only problem: he was her twin brother Jamie's best friend. No other man in Darcy's life has ever been able to live up to Tom Valeska and so Darcy has never let any other man too close. Then, upon coming home one night, Tom is on Darcy's porch and single for the first time in 8 years. Working together to give Jamie and Darcy's grandmother's house the makeover it needs so they can sell it, tension builds up and sparks start flying.
I really wanted to love this and I'm just so disappointed I didn't. Three words to best describe it: problematic, underwhelming and shallow. Now, don't get me wrong. There were some things I liked about it. I absolutely adored the witty writing style and felt that it fitted the story & Darcy's character perfectly. I liked Darcy okay– I like unlikeable heroines and appreciated that she took no bullshit, even if I wanted to rip my hair out sometimes. I also thought the tension was brilliantly done and made for a really awesome slowburn romance. However, that's where my praises end.
First and foremost, this book needed more development. There was very little character development until the last 2% of the book. I wanted more of their backstory– Tom and Darcy have so much history and I just wanted to know more about it. I feel like this maybe could have done better with some flashback scenes scattered throughout, so we got to see more of their relationship as kids/teenagers, since their preexisting relationship played a large role in their characterisation and development. Also, Darcy has a heart condition that is just barely touched upon? We are given 0 explanation to what her condition actually is. It seems to be just thrown in to cause dramas in a few of the scenes. If you're going to include something like that, don't just tack it on. 
I feel like the book just fell apart right at the end when Jamie turns up. The inevitable conflict that breaks Tom/Darcy up for like 2% of the novel was weak as fuck and then the ending was just rushed and anticlimactic. We spend 90% of the novel following the first couple weeks of restoring/rebuilding the house, only to have the other 2-3 months restoration/rebuilding  happen off-page. Jamie/Truly's relationship felt completely tacked on at the end— almost like a lead in to a following book. It was underdeveloped (shocker) and completely pointless, in my opinion.
Now to the number one thing that pissed me off for the entire fucking book: unhealthy possessiveness. Honestly, the possessiveness Darcy and then Tom (kinda) started displaying was unhealthy as fuck and honestly made me really uncomfortable. I lost count of how many times I read lines like "I'd never let another woman sit as close as I am right now" and "the rabid female timberwolf inside me doesn't want anyone else seeing this body." Also, there was also so much unnecessary hate towards Tom's ex, Megan. Darcy was constantly thinking about how "Megan's too simple to realise what she has." There was also lowkey I'm-Not-Like-Other-Girls vibes and just. Yikes. The way all this possessiveness was written made me feel like it was supposed to be quirky and somehow relatable, but that is not at all how it made me feel and honestly was just unhealthy.
Along with the unhealthy possessiveness, Darcy's saviour complex towards Tom also made me super uncomfortable. Jamie & Darcy's entire relationship with Tom began because Tom's mother is a single mother who works a lot. Tom moved in across the road from Jamie and Darcy, and one night he was locked out of the house. Jamie dragged him over to their house, fed him dinner and from there everything was always about saving him. The way that whole situation was written and framed screamed saviour complex to me. The saviour complex continues all throughout the book and there are times where it felt like Darcy was legit infantalising Tom. I just really wasn't a fan.
Further, after this first encounter, Darcy drew a sled dog in the middle of a notebook she keeps hidden. She named the dog Valeska and imagined "a creature that would sleep at the foot of my bed. He'd take food from my hand but could tear out the throat of anything that opened my door." This imagery and metaphor continued throughout the novel and again, I'm just so uncomfortable with the whole possessive/aggressively protectiveness imagery. 
Lastly, I had a few minor issues with the writing style as well. The chapters seemed to end at really weird places-– there were chapters that ended in the middle of a conversation for no reason???? Also, while I loved the witty writing style, some of the dialogue and writing was just awkward and clunky. And finally, this is a personal preference, but I don't like authors toeing the line between explicit/fade-to-black. Just pick one. The sex scene in this was lowkey explicit but the actual names for body parts weren't really used. If you're going to be explicit during sex scenes, just go all out. 
Unfortunately I was not really a fan of this one. It was problematic, underdeveloped and shallow. I liked the witty writing style, however that doesn't make up for the abundance of unhealthy possessiveness, saviour complex and underdeveloped everything. I'm starting to think that perhaps Sally Thorne is not the author for me.